Flappy Bird is a game for IOS and Android devices in which the player must tap a pixelated flying bird repeatedly, while avoiding incoming Pipes.
Flappy Bird went viral after Youtube Let's Player PewDiePie uploaded a video of him playing the game.  
The game was often noted for its increased difficulty and there were even parody videos wherein Youtubers would break their phones, claiming that, that was the only true way of beating it.
Flappy Bird was constantly accused of being a "Mario Rip-Off" for containing the series' flagship Green Pipe.
At long last, game developer Dong Nguyen announced on Twitter that he would be deleting Flappy Bird from all IOS and Android Devices, stating that it had "ruined" his simple life.  He mentioned he didn't want press to overate the value of it  and that the decision wasn't sparked by legal issues.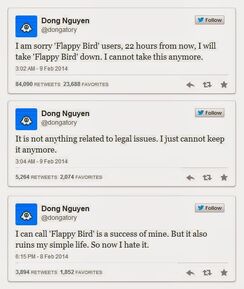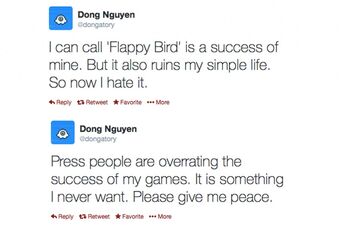 Following the games removal on the Google Play and App Stores,  copies of the game with different characters began to flood the market and there were even some Browser based versions released.
Phones with copies of the game installed started to be auctioned online for a very high price after the game's cancellation[1]
Terry Cavanagh, creator of VVVVVV made his own  rendition of the game. Maverick Bird