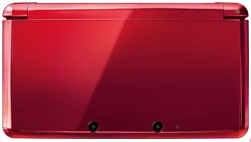 The Flame Red Nintendo 3DS (also called Flare Red in some countries) is the 3rd color rendition of the original 3DS. It was initially seen back in E3 2010 during the unveil of the 3DS console, but was not available to purchase until late 2011.
The system was bundled with a free copy of Super Mario 3D Land  on Black Friday.
Release Dates
Edit
Japan-July 14th, 2011, discontinued in October 2012.
North America- September 9th, 2011(discontinued)
Europe-September 9th, 2011
Australia-September 22nd, 2011.
Ad blocker interference detected!
Wikia is a free-to-use site that makes money from advertising. We have a modified experience for viewers using ad blockers

Wikia is not accessible if you've made further modifications. Remove the custom ad blocker rule(s) and the page will load as expected.